Slot machines, to me, are lots of fun!  Here are some tips about getting the most info from your slot machines – play as you learn.
I get a lot of good information from Casino City Times – Gaming Gurus  – Frank Scoblette is a good source of information on Slots.  I also Like Casino Gambling Strategy – Blackjack, Craps, Roulette, Three Card Poker, Slots, Video Poker – from VegasTripping.com.
One of the hardest disciplines to learn is managing your bankroll, or gambling money.  I would recommend that you learn to be a session gambler. Divide your bankroll into smaller piles.  For example, take a one hundred dollar bill and divide it into 5 $20 dollar sessions.  When you play a machine, only put in one $20 bill, (or one session).  when the $20 is consumed, your session has ended, and you make the decision to switch machines or start a new session.  If you jackpot, cash-out and end that session – put that money in your back pocket, for later.  If you blow all 5 sessions, hang it up – take a break, and see what else you can do at the casino!
Smart Slot Strategies: A mathematical approach to winning slot machine strategies
Don't be afraid to take a few minutes and review the paytables on the machines;  paytables have a significant impact on your potential winnings.  Progressive slot machines (where a bank of slots contribute to the pool of prize money) usually require a Maximum Bet to get the big prize.  You can bet less, but that means if you roll the winning combination – you may get a small payout or NOTHING.  Other machines may have graduated payouts regardless of your bet; so if you are playing small wagers to extend your play time at the machine, seek out these machines so you don't miss any winning opportunities!
Keep an eye on the slot machines maximum bet – usually expressed in credits;  wagering 500 credits on a penny machine is $5.00 for that spin of the reels! If your session is $20, that is only 4 spins – if your session is $100, then you have 20 spins.  More spins mean more opportunity to win (or lose).  Many hard core slot machine players feel you have to wager $200 – $300 on a machine, in order to get any significant winnings.  Decide in advance what your gambling budget is, and space it over your time in the casino – then you have an idea what you are willing to spend on gaming, and can strategize the most practical way to meter your wagering.
If you bump into a slot attendant, they may have a "hot sheet" of machines that have the larger payouts on the floor.  Not all casinos distribute or publish this information, and it usually just tells you which machines are played the most, which is why they have the bigger payouts.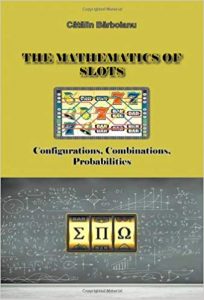 The Mathematics of Slots: Configurations, Combinations, Probabilities
These books can be very helpful.  Read all you can.  Now that slots are mostly electronic, the math and "gambler psychology" play into how the machines work.  Pay attention to paytables, progressives, and the type of machine you are playing!
Best of luck in and out of the casino's,  -Alan