If you want a shot at winning anything on slot machines, you have to play. The Longshot win of someone putting a quarter in a machine and winning a million dollars is Hollywood, but it can happen. (and yes, I do put my few dollars in the giant slot machine when you enter the casino, you never know).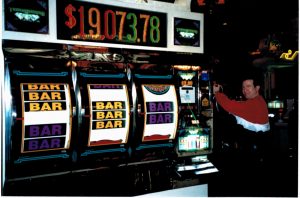 Apart from playing more equals more chances to win (or lose, if you look at it that way), I am a low-roller and a "session" gambler, extending play with lower wagers and $10 – $20 sessions. Winning "big" is a factor of the RNG, the "Random Number generator" that determines the outcome each time you spin. Each spin has an equal chance of winning, although larger progressive jackpots are only paid when the maximum is bet.
While I would be exuberantly happy and excited with a big jackpot, I have never won more than about $200 on any one machine. The real payout is the fun you have with a machine that has aliens, stampedes, hay-wires, super Heroes, or free spins.
So my answer is that I play, to increase the possibility of winning – but luck and the RNG have not granted the "big wins". (YET).
You can always get books on "how to win big at slots" from Amazon.
I have touched on the subject before, so take a look at my shameless self promotion:
Alan Chenkin's answer to What are the best tips for casino slot machines?
slot machine strategy | The Chenkin Report
Have fun at the casino, learn the strategy that is best for you, and (in Vegas), enjoy the sights! Vegas Baby! Silver strikes in the land of Bugsy and Elvis!