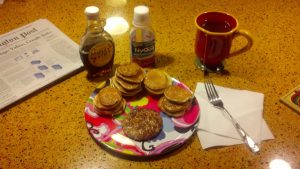 Alan's Pancake recipe
One of the greatest recipes of ALL TIME!
(also good for waffles – use same recipe)
Ingredients:
1–½ cups flour
1 tsp Salt
3 tbsp Sugar (brown sugar, honey, or molasses are acceptable substitutes)
2 tsp Baking Powder
2 Eggs (Beaten like they owe you money)
3 tblsp Oil (canola preferred, vegetable oil ok — Never use Olive oil)
1 tsp Vanilla (Mexican or Madagascar are the best)
1 ½ cups Milk
½ ¾ cups Water, if needed, to thin batter.
Formulation:
Mix dry ingredients. In a separate bowl, mix wet ingredients, and add to the dry ingredients while stirring. Lumps are ok; they will work out on their own.
Leave batter sit for 3–5 minutes to thicken.
Drop spoonfuls of batter on a hot griddle, flip when edges are dry and bubbles form on top. Note: Griddle is ready when water droplets "dance" on the griddle. You may want to use some butter or spray oil like Pam to keep the first batches from sticking.
Serve with Syrup, powdered sugar, honey, cinnamon sugar, chocolate syrup, raspberry syrup, Whipped cream, fresh fruit, butter. ENJOY!
(Syrup available on Amazon and your local grocery)
Options:
Apple: Mix applesauce into pancakes (1–2 tablespoons).
Banana: mix banana & milk in blender, add to pancakes. (Reduce sugar).
Granola, coconut flakes, cereal, nuts, jelly all make good additives to pancakes.
Trial and error is required to determine the best quantity and texture, use a small amount of batter to work it out — not everyone likes flavored pancakes; be kind to the purists.
This is an Iteration of Alan's original recipe. Pancakes are considered dessert food ("crepes") in certain countries, and exceptional breakfast fare here in the US. Your use/abuse and experimentation are welcomed, and no results are guaranteed or assured. Exercise caution when feeding pancakes to small children as they may become airborne, slimy, gooey, and an immense source of adolescent fun second only to pratfalls, breaking wind, and laughing hysterically as they smear you with a syrupy half-eaten pancake. Pancakes freeze well and should be enjoyed at every opportunity. The US armed forces, cowboys, and truck drivers eat pancakes as a regular part of their diet. Please keep the tradition going.
This recipe is offered to you for your exclusive use. Commercial efforts must recognize my original. Feel free to donate to my efforts if you like my pancakes. (I also accept bitcoin — Which would look like pancakes if they were in physical form).