I have been jonesing for an Ebike (electric bicycle) for quite some time.  As an avid biker, with an inexpensive mountain bike with full suspension, I felt it was time to upgrade.
Here was what I was looking for:
20″ fat tire Ebike with fenders  (fat tire has a smoother ride)
Front and rear suspension (as I age, this is becoming important)
Folding, for transport and easy storage
48 volt, larger battery, LCD Display, disc brakes, front and rear racks
7 speed manual shifter for pedaling without power
Lots of positive reviews and YouTube video reviews
As a notorious shopper, I scoured the internet looking at some mediocre to expensive Ebikes.  RadPower, Ecotric, BFI Sport, and others all came under my scrutiny.
Some are extremely expensive – That was a show stopper for me, as I A) am frugal, and B) want as much value as I could for my hard-earned recreation dollar.
First I looked at the 20″ basic models, with 350 watt motors, like the Ecotric step through 20″ folding Electric Bicycle: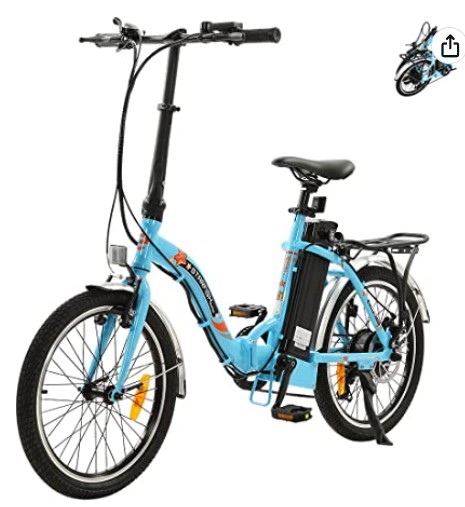 I really liked the bicycle look, the folding "step through" frame, and the light weight (under 55 lbs.).  It was adequately powered, with 350 watt hub motor and a 36v battery, considering that I am a casual rider, and did not need long range to commute to work.
The Ecotric has no front or rear suspension, like a conventional bike.  It has good springing on the seat, and if you don't have rough roads it would be fine on pavement.  While it could work for me (and is very affordable) I decided that I should buy more bike.
Next up, 500 watts: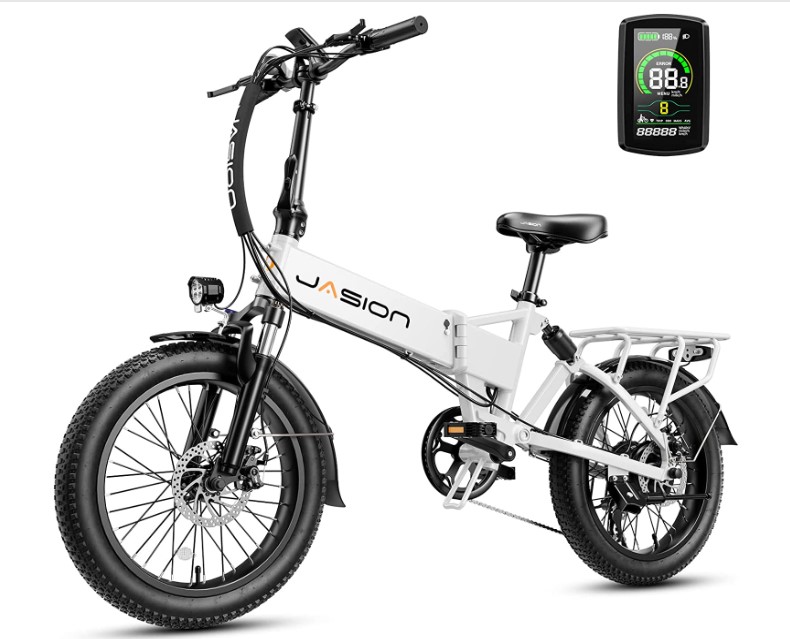 This bike hit more of my desired features; Full suspension, 500 watt power, fenders, folding, LCD display, disc brakes, and Shimano gearing.  I really liked the rear rack, and the front and rear lights.
The tires were only 3″ (I was looking at 4″), and it weighed in at about 60 lbs.,  and I was thinking that more power at that weight (due to heavier battery) might suit me better.
So I started looking at 750 watts, and: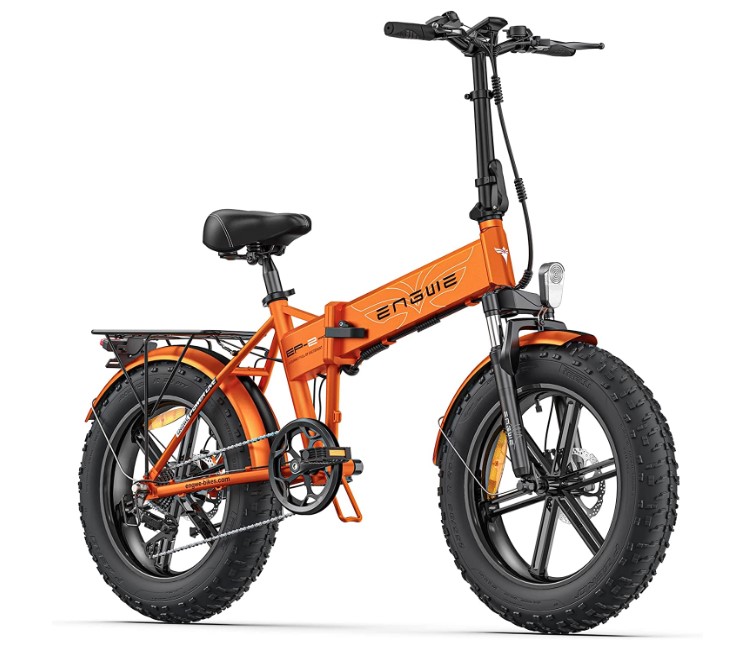 This bike Has a lot going for it; 4″ fat tires, LCD screen, disc brakes, fenders, lights front and rear, 7 speed shifter, 750 watt 48 volt battery.  All aluminum construction, rear cargo rack and comfy looking seat.  I especially liked the one piece wheels.
While this is a great deal, there is no rear suspension,  The handlebars seemed quite high (they have to fold when folding the bike), and the battery capacity was a respectable 750 watts, but – you know me – I wanted More Power!
So I settled on this beauty: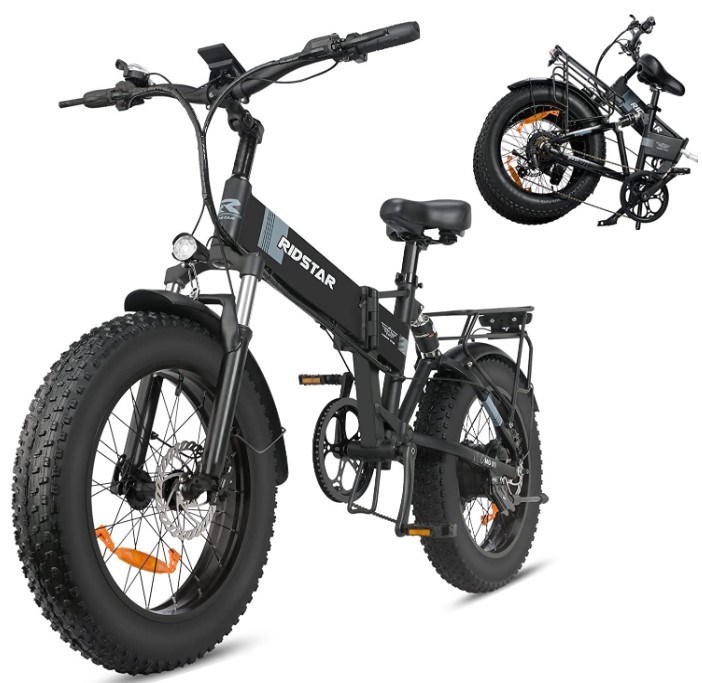 This Ebike hit all my buttons; 1000 watt hub motor, 48 volt 14AH battery, 4″ fat Tires with fenders, full suspension (front and rear), 7 speed Shimano gearing, LCD display, Lights, Horn, cell phone mount (with charger),  rear cargo rack, external charger with 5 hours from dead to full charge, comfortable seat, and 66 pounds!
It was delivered in seven days, and the assembly was not difficult, although the instructions were not the best, I was able to get through it with no issues.  It involved careful unboxing, assembling the handlebars the the stem, putting on the front wheel and fender, the pedals,  and attaching the LCD screen and the front light.
Ridstar included an assembly toolkit consisting of a folding wrench set with Allen keys and screwdriver blades.  Similar to this one on Amazon.
Things I did not know (relates to almost all Ebikes)
Ebikes come 85% assembled, and you need a handy friend or bike shop to assemble them.

Charge the battery first – you want it fully charged before you start.  Despite the 7 speed gearing, these bikes are heavy and will be harder to pedal on foot power alone.

Take your time setting up the handlebars and the seat.  Positioning is important for comfort and safety.

Ebikes need to be "started".  With the Ridstar, the battery needs to be turned on, and then the handlebar ignition switch needs to be turned to the on position.  Then you push a button, the LCD lights up, and the bike is ready to go.

I used my Pedal Assist at level 1 and 2. It goes up to 5. The motor was responsive and impressively powerful.  When you stop pedaling, the bike slowed down quickly.  The gears allow you to match your pedaling to the power assist speed.  It took some getting used to.

Ebikes can go FAST.  Speed increases the potential for serious injury or death.  Even though they are "Pedal-assisted", try not to speed or test the limits of the Ebike.  I consciously limited my speed.  Ebikes flatten hills, make longer commutes possible, and have more comfort features than most conventional bikes.  Don't get to comfortable with going fast, Ebikes are not motorcycles.  Larger batteries are for longer runtimes, climbing hills and grades, not just speed.  

Get a good helmet, and I recommend gloves like these to cushion your hands.  on my first ride I had to get used to the heavier handling and the gloves really helped.
My Ebike has 2 keys; I recommend a split keyring to separate them easily, and a really good safety lock, and maybe an alarm..
My conclusion
I knew when I started looking what features I was looking for, and found the best value Ebike that gave me all the features and more.   I am pleased with the Ridstar and will enjoy riding it.
While I got a great buy, I could have gotten a different  model like the Jasion or the Ecotric because I really don't need the power or extended range of the Ridstar.  The advantage would be a lighter bike since I don't go off-road or on unpaved trails.  When you are evaluating bikes, consider the trade-off between the larger more powerful bikes and how you will be using it.
Here's hoping my experience will help you make a better decision!