The Passing of Ruth Bader Ginsburg is a moment to reflect on a life well lived, dedicated to public service,  equality, and the promise of America as a beacon of freedom and justice.  Justice Ginsberg, despite a small stature, (5'1″), she stood tall among the Justices as the second woman to serve on the supreme court (SCOTUS).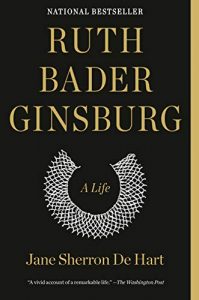 Born in Depression era Brooklyn, New York, She was at the top of her class in Law school, and became a centerpiece of the women's liberation movement.  She was an advocate for affirmative action, the woman's right to choose, and became a symbol of freedom and was embraced by people around the world as a champion of human rights and fairness.  She was even nicknamed "the Notorious R.B.G", which is a play on the deceased rapper "Notorious B.I.G".
Ruth Bader Ginsburg is an American Cultural Icon.  Not only as a Supreme Court Justice, but someone everyone can identify with and be recognized as a fan of her ideals and work for equality and justice.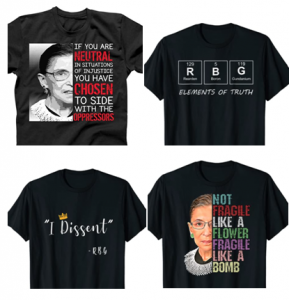 Ruth Bader Ginsburg was a trailblazer for equal rights and a role model for women and children.  There are even children's books featuring her prominently.  She was a grandmother and caring parent.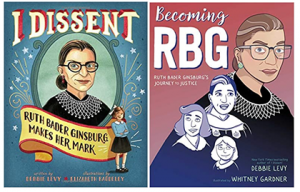 It's no surprise that Ruth Bader Ginsburg  Gifts and swag are testimony to RBG's impact on society and our desire to identify with a person known for integrity and human decency.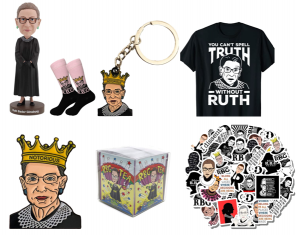 There is even a Ruth Bader Ginsburg Workout book and wall Calendar!
The world has seen a great light extinguished in the passing of Ruth Bader Ginsburg.  With condolences to her loved ones, I look forward to strong women (and men) carrying her torch and ideals to continue her fight for equal rights, racial equality, justice, and a better world!